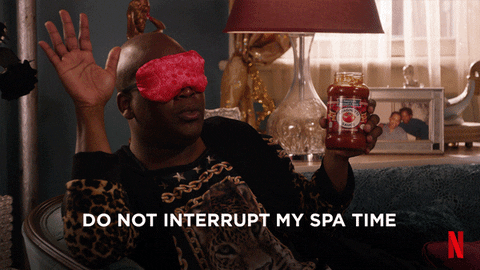 I saw a meme that said sometimes you have to just clean your room and throw on a sheet mask and act like your life is together. And honestly, nothing could be further from the truth.
Whether you're trying to get your life together, procrastinate, or remedy your skin, creating an at home spa experience is sometimes just what the proverbial doctor ordered. A little self care never hurt anybody. And self care isn't always taking a nap or ignoring issues. Sometimes it's taking active steps to better something, and what better place to start than your appearance right?
I've pulled together 7 easy steps for you to create your own perfect spa like facial experience at home.
Set the mood
Cleanse
Exfoliate
Steam
Detox
Treat
Moisturize
For a break down of each step keep reading.
SET THE MOOD
What is a spa like experience without solitude, some peaceful tunes, and nice plush robe? Get your lighting right, play some soothing music, and light a nice aromatic candle to get you in the zone. I prefer eucalyptus and lavender for times like these, but whatever floats your boat do that!
CLEANSE
Start by cleansing your skin. We want to start with a clean surface for all of the subsequent steps and allow any other product to penetrate deeper. Any deep cleansing product that you have will do . What I will tell you is take your time. This isn't your rushing to wash  your face in the morning. Take a few minutes and really massage  your cleanser into  your skin and work it around in upward circular motions. When done and after rinsing your face off with lukewarm water, pat your skin dry.
EXFOLIATE
Exfoliating is imperative to healthy glowing skin. It will help refine texture as well as pore size, along with helping the penetration for other products you apply. Let's slough off all the dead skin and reveal something newer and better. You can use either a physical exfoliant ( a product or scrub with granules in it) or you can you a chemical product such as a peel pad containing glycolic acid that will exfoliate the skin.
STEAM
Now that you have cleansed and exfoliated, let's open up the pores before we suck some more gunk out of them. If you don't have a facial steamer, there is nothing wrong with boiling a pot of water and taking a towel and throwing it over your head. Slowly you can lean over the pot allowing steam to hit your face, however it should feel warm not hot. You don't want to burn your face with steam. You can steam for 10 to 15 minutes. If you have super sensitive skin or rosacea, you may want to skip this step.
DETOX
Your pores are open, now lets get the gunk out. Here is where I will use a detoxifying mask such as a clay or charcoal mask to extract all impurities from the face. At this time I may also do a pore strip for my nose to remove any blackheads.
TONE / TREAT
At this point in the spa/facial routine, your skin is clean as a whistle and feeling brand now. Now we are going to introduce products to balance the skin or treat any specific issues. You can use a toner such as witch hazel, or any other toner you have to balance the pH of the skin. You can also apply your spot treatments, serums and eye creams.
MOISTURIZE
Seal in all of the work you did with a hydrating moisturizer that is appropriate for your skin type. Massage deeply into your skin for 1-2 minutes. Be delicate around the eyes, and don't forget the neck and décolleté.
At this point you should feel more than relaxed and your skin brand new. Haven't tried this before? Well what are you waiting for?